I just got back from my first baseball game! Rockies vs. Giants. It was a lot of fun! Although the Rockies lost :-( 10-7, but we had a good time! We'll be going to another game soon!
I've been super busy with the start of my summer. The biggest thing was graduation. two other homeschool seniors and our parents put it together. It was really nice...there was a mass and ceremony/reception. I had tons of friends and family come, my grandparents flew in from AZ and stayed with us which was nice :-)
My plan now is to take a year off, get my portfolio ready. I'm looking at either Benedictine in Kansas (good art program) or UNC (if I decide not to major in art)
We took lots of picutures! Here are some:
Class of 2008: David, me and Lauren
My table of stuff. lol
My best friend Katieri and I!
The picture used for the program :-)
Katieri, me and Kayliegh practicing our ninja skills
Me, my niece Tina and my sister Renee...aren't they cute! :-)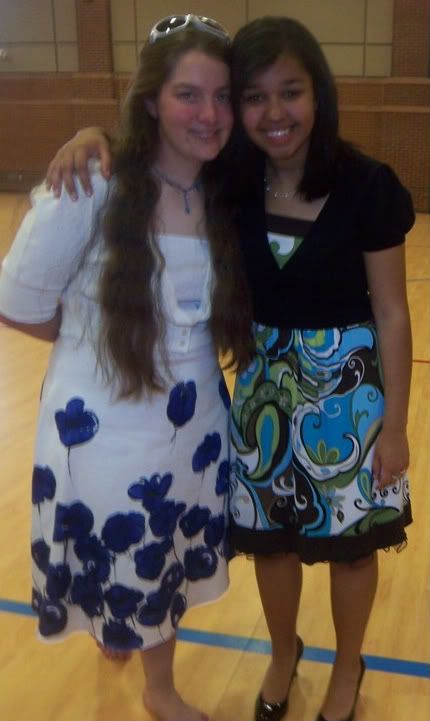 My fellow graduate and close friend Lauren
Youth group is keeping me busy. I belong to a pretty active big group. We're raising money for the Stubenville of the Rockies retreat which is next weekend. My brother Nick and I had to sell chocolate, lol. We also have lots of summer activites.
Work...thats always fun. Still working at Jo-Ann's.
I went to a prom with my friends Lauren and Andrew last weekend! That was fun :) It was different from most proms, they played GOOD music lol. Like swing and techno :D
I have a couple pictures from that but they're not on the computer yet so next time!
My pen-pal Eliza (the one who I went to stay with in VA) came to CO last month! It was nice to see her :-) Her mom and 3 sisters took a month long car trip across the US and they stopped here! We took them to the Celestial Seasoning factory.
Oh, here are a couple of my senior pictures...taken in my backyard by Celeste!
Oh! How could I forget! The biggest thing that started my summer was a second trip to D.C.! More pictures I'll have to upload! lol. My mom and I went for 5 days. It was soo much fun! We took the Metro everywhere and it was awesome. I wish we had something like that here. It takes you everywhere and it's so cheap. The only bad thing was it rained all 5 days we were there and our luggage was delayed so we had go to our hotel with nothing and we waiting almost the whole next day for it to arrive to our hotel. lol but it didn't bother us, everyone uses umbrella's there, the rain does not stop tourists in D.C. We stayed in a nice hotel right around the corner from the Iwo Jima Statue. Here are some highlight pictures ;)
This is the staute that was by our hotel. I loooved it there. I'd have to say this was my favorite place. I love WWII history. It was a very nice object to take pictures of, I have tons of them from different angles, these were my favorites.
A guard at the tomb of the unknown soldier in Arlington cemetary. My mom's favorite place and my 2nd favorite place :)
The National Basilica...mom and I went to mass here. It was my 2nd time and my mom's 2nd time (since she was a little girl) and we loooved it there, could've stayed all day.
We went to tons of other places, I'll have to post more pictures soon. A lot of them are the same places I went to last year: the Lincoln memorial, national gallery of art (I could spent forever there) WWII memorial, National portrait gallery. That place was awesome! lol I must share my picture of Jack and I:
lol!
So that sums up the beggining of my summer! lol One other highlight! I found a pair of pink low-top converse at a garage sale for $2! Almost new, lol.
Thats all I can think of for now, I'll post more pictures and update soon!
I'd love your comments and I want to hear about your summer!
Michaella