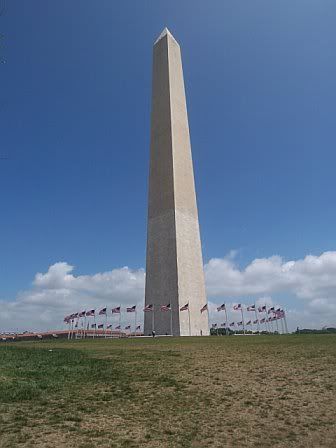 Hello everyone!
Sorry I haven't posted in a while. I have been really busy. I had a really good trip! It was so much fun! I stayed with Eliza, in her really small town, lol. (The type of town where everyone knows eachother) It was a really nice town. It was sooo nice up there, it was pretty warm all week. Lets see, we went to VA beach, It was my first time seeing the beach, I loved it! The water was pretty cold so we only got our feet wet. Lets see we went to Washington D.C. and I loved it there too. We went to the National Gallery of art which I could have spent all day at...we saw all of the memorials/monuments, the air and space museum, and the Archives. I went to a civil war museum and Fisher's hill (a civil war battlefield.) I also saw lots of roadkill! Virgina has tons of it for some reason.
Eliza and I had fun, right Eliza? ;) Hopefully she can come out to Denver next summer! And I plan to go back there next summer also! It's very interesting meeting a pen-pal :) I think we felt like we knew eachother already, so we didn't have much to say when I first got there, lol. We have been pen-pals for 8 years...
Here is a link to view my pictures:
http://www.kodakgallery.com/Slideshow.jsp?Uc=z3d9hog.uu2x5gg&Uy=-84yq3f&Upost_signin=Slideshow.jsp%3Fmode%3Dfromshare&Ux=0&mode=fromshare&conn_speed=1
I saw Spider-man 3 while I was there! I liked it but not as mu ch as the first 2. I didn't like Tobey McGuire's acting and I didn't like one scene. (For those that saw it, the jazz club thing...)
The graphics were cool and I liked sandman.
I've also been busy with work...I am working almost everyday (except Sunday, and Tuesdays) but only for 4 hours (a day) So not too bad...
I also really need to catch up on school so I can finish for the summer! I am pretty behind...
Well that's all for now!
~Michaella
Here is a picture of Eliza and I: