Hello!
Time a for an update I suppose!
It has been raining here for two days. I LOVE rain!!! :)
I just got back from the homeschool history fair...Some nice projects. We didn't submit anything though, we just didn't find the time.
And let's see, I'm getting ready to leave soon. I'll be leaving for VA in exactly 1 week from today. I'm very excited.
I met some of my online friends the other day! lol...Here is a picture:
There's (LtoR) My brother Nick, Asher, me and Aisa.
Aisa was visiting from out of state so we got together and met. We're all friends from a Catholic homeschool teen board. We went to Mother Cabrini Shrine and climbed at least 300 steps if not more, lol. It was very wierd meeting at first but we became good friends by the end of the day :)
Here is a picture of the Sacred Heart Statue that is at the top of the steps: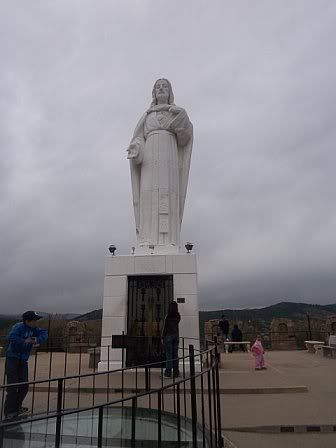 Well that's all I've been up to besides work!
I'll try to update before I leave!
toodles!
Michaella